Swizz Beatz on New Album & Alicia Keys
Swizz Beatz on New Album & Alicia Keys – He is currently very busy working on his new album, but Alicia Keys' future husband Kasseem Dean aka Swizz Beatz, took a little time out to give a small interview to OK! at the New Music Seminar in New York last Wednesday. He spoke about some nice collaborations with Jay-Z, John Legend, Mary J. Blige, Drake, and of course with Alicia, but he also shared some details about his upcoming wedding.
Swizz Beatz said:
"Well its not this weekend!.But you know, were excited. Our union is amazing. Our union is pure. Our union is positive no matter what people say or what people think, time will tell everything and you know, silence is the best thing. We just keep it private and we do our thing and just have fun with it."
Beatz on helping with the wedding planning,"Yeah, you know, I'm a planner!.I like getting into the detail of things. I'm inspired by fashion, I'm inspired by art, I'm inspired by architectural things so [I like] being involved with the wedding. I'm not the person who sits back and goes, okay, well I'll just show up. I'm actually spearheading certain plans but it's a nice blend, a nice partnership."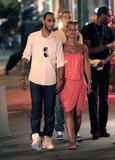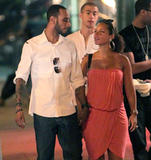 On what kind of day he is planning, the rapper revealed, "Just an amazing day. Very intimate. It's not a superstar wedding. It's not a gimmicky wedding. It's a true bond of love, you know, that's not based on having the most famous person sitting there while you're doing it. It's about having the closest people who really understand you as a person and that really have love for you. So it's a small situation."
Swizz Beatz was previously married to Mashonda, with whom he has a son, Kasseem Dean Jr., born January 18, 2007. He allegedly left his wife for Alicia, with whom he lived since 2008 (even if their relationship was confirmed in May 2010) and the two will wed sometime this summer.
Category: Alicia Keys