Rihanna Te Amo Music Video Set Paris
Rihanna Te Amo Music Video Set Paris – Rihanna seems like she is ready to express a more passionate side in her "Te Amo" music video.
The Bajan singer has put her usual look aside. Normally she is featured in somewhat edgy and controversial outfits but this time she has posed for more romantic shots. Her beautiful dress undoubtedly flows in the wind and she welcomed shots to be taken for her next single which is going to be called Te Amo. Rihanna is in France at the moment where she is conducting her "Last Girl on Earth" tour that she has done all around the world. Rihanna took some time out of her tour to shoot this lovely video at French chateau which provided beautiful scenery for the photoshoot.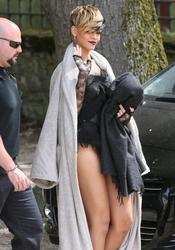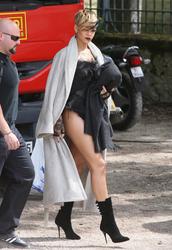 After she completed her performance at the Palais Omnisports de Paris-Bercy just Wednesday night she was awake extremely early in the morning and ready to pose for the promotion video in the town of Vigny. As you can probably imagine, Rihanna added a bit of sex appeal into the video as she normally does. About half way through the shoot she changed what she was wearing into a black basque to shoot the ending scenes. Rihanna wasn't alone on her trip and she was accompanied by the French supermodel Laeticia Casta. Both of the two looked extraordinary together, exceptionally well in their heavy makeup and black dresses. The director Anthony Mandler wants to keep the story of the video private so that the news isn't revealed prematurely. However, we do know that it was requested to be "beautiful, sexy and glamorous."
Category: Rihanna