Mariah Carey Low Self-esteem Problem

Mariah Carey Allure Magazine Interview

Mariah Carey told Allure magazine that she is a buttoned-up girl and a freakin' prude when it comes to sex.Carey said:
"I'm Mary Poppins: I'm what the buttoned-up girls are supposed to be.""a freakin' prude.""I've always had really low self-esteem and I still do.
"What's weird about that is being onstage and the love that you get, and the adoration that you feel, from your real fans.
"It's hard for a partner to compete – just imagine."
It is always nice to hear Mimi talk dirty.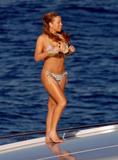 Category: Mariah Carey