Beyonce Engagement Ring?


Life and Style magazine has revealed that Beyonce and Jay-Z were recently out dinning at Butter nightclub in NYC.And Beyonce had a huge diamond ring on her wedding ring finger that she rapidly hid in her purse when she noticed people were staring at her hand.An eyewitness said:
"She was wearing a huge diamond ring on her ring finger," "When she noticed that I and some others noticed the rock, she quickly hid her hand behind her left elbow. Then she reached behind her to where her bag was, and after placing her hand in her bag, the ring disappeared!"
The story would have been funnier if Jay had stolen a ring for her and hid it in her bag.
Anyway as a bonus there are some sexy pictures of Beyonce and Jennifer Lopez in tight leather pants shotting an ad together.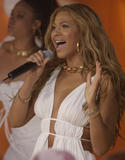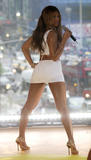 Category: Beyonce Knowles, Jay-Z